The most wonderful time of the year has arrived, and yet with COVID-19 once again dictating the terms, it feels a bit like we're being visited by a ghost of holiday past. Despite having just officially begun, this holiday shopping season already is marked by supply chain disruption, persistent inflation and mixed consumer confidence.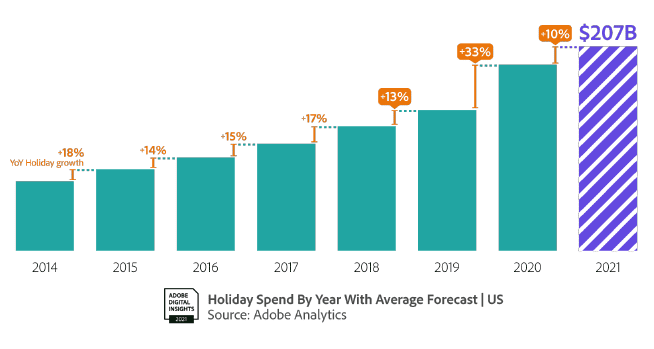 And just like last year, it looks like consumers will respond by turning to ecommerce. Holiday shopping insights from the Adobe Digital Economy Index predict that ecommerce will become even more ubiquitous, with U.S. online holiday sales anticipated to
increase
10% YoY, hitting
$207 billion in the period from Nov. 1 to Dec. 31, 2021.
"We're seeing pretty good growth coming into the season," said Vivek Pandya, Lead Analyst for Adobe Digital Insights in an interview with Retail TouchPoints. "Prices have been scaling throughout the entire year, and for the most part, consumers seem to be absorbing those costs. They're taking these higher prices and factoring that into their purchasing, and instead prioritizing the acquisition of goods."
The picture as we enter this holiday shopping season differs not only compared to pre-COVID years but also compared to 2020:
Source : https://retailtouchpoints.com/topics/consumer-trends/consumers-turn-to-bnpl-bopis-to-cope-with-rising-prices-and-supply-chain-uncertainty
315